About GardenStew PLANTS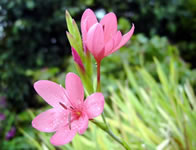 GardenStew PLANTS
is an online
plant database
created entirely by knowledge shared by our members. Our mission is to grow an invaluable plant reference resource for plant-lovers everywhere!
If you are new to the site please read our quick
Getting Started
guide or for more detailed questions you can reference our
Help
section.
If you would like to join in you need to first become a member of GardenStew
We welcome you to join us in building the next generation of plant database!
Kind regards,
All @
GardenStew PLANTS
P.S If you see a problem please
let us know
. Thanks!